Next Waterhole is Sunday March 22, 2020
at our NEW location:  150 Larcombes Road, Modewarre

Gather with other like-hearted people to spend time in the presence of the horses as teachers and healers.
In these changing times, the building of community is one of the most sacred purposes of the human collective when it is based on values, heart, joy, trust and common purpose.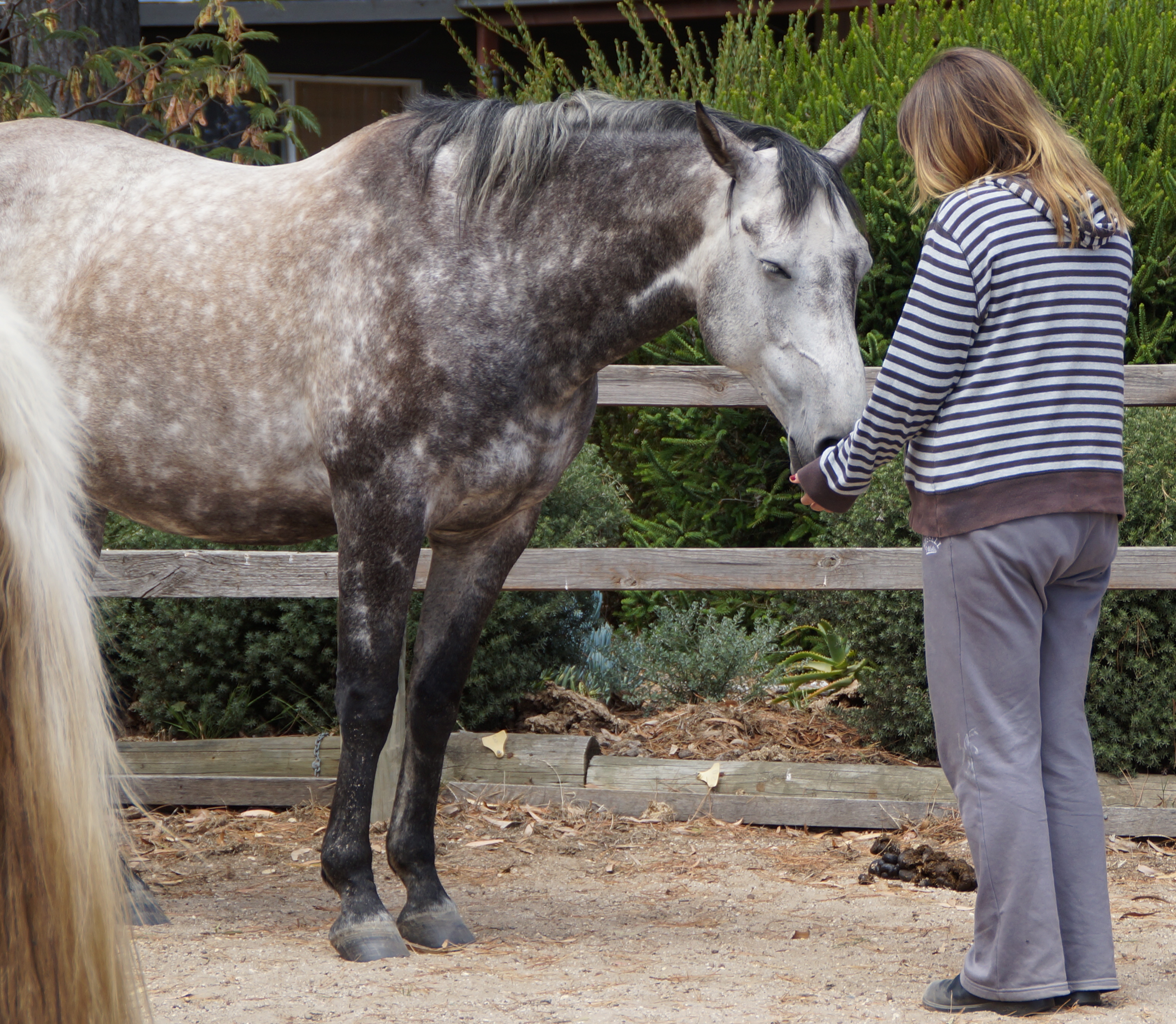 At this gathering we engage in practices of mindfulness, immerse ourselves in nature, and invite the wisdom of the horses for learning and healing.
Unlike our programs and individual sessions, your experience at the Waterhole is not facilitated.  You are invited to step into the stillness and sacredness of nature where you can take time to reflect, and access your own innate wisdom.
We do however suggest a point of focus at each Waterhole.  For example, we may invite you to experience the flow of giving and receiving as you spend time with the horses, or practice mindfulness while brushing a horse.
We conclude each program with sharing food.
As we will be outside, this gathering is weather-dependent.  If extreme weather conditions are predicted, the gathering will be cancelled.  If you are unsure, please check with us the day before the gathering.  You can click here to check the forecast of weather conditions in Torquay. On this weather page, you can also click on 48-hour forecast to get more detail.
Details
The 4th Sunday of every month – which is usually the last Sunday of the month – refer to our Calendar.
Time:  10:00 – 12:00 noon
Cost:  $20
Coffee / tea provided; bring snack/morning tea to share
Contact us to advise your attendance at least 3 days prior to the gathering.
Who can attend?
This gathering is primarily for anyone who has attended any of our workshops, programs, or sessions:  young adults – seniors.  There is no riding, horsemanship skills are not taught, and no horse experience required.
What to wear / bring
Dress for the weather conditions and wear layers (being on the hill and near the ocean, we get several variations in weather in any given hour!)
Wear closed in shoes (runners are ok).
You may also want to bring sun screen, insect repellant, and any allergy medication
Bring your own water bottle
Bring your own travel mug – for hot drinks
Bring a snack or plate to share
Bring your own chair
Where to park
We share a driveway with another property.  Please travel slowly up the driveway and take the right fork into the paddock after you have passed the first house.  Park near the arena.
What others say
"Thanks so much (for the Waterhole on) Sunday – it was very special / significant / enlightening / helpful hmmmm – just perfect really.  Like church sometimes the gospel resonates big time!!  Keep up the great work and I very much look forward to 'horse church' again.  Thanks Cindy it really was just what I needed Nxxxx"
____________________________________________________________________________
"I wanted to let you know that my experience with the horses at the Waterhole really came home to me later in the week where I experienced a profound connection to being in the moment and moving with true flow, whilst walking among fast and busy people in the city.
The sensation of the 'perfect step' came through, that is that each movement was in perfect synchronicity, and I felt that I would get where i needed to go in perfect time. Both on a practical level for what I needed to achieve that day, and in a larger sense, where each step felt aligned and connected with my true purpose. The feeling of deep stillness and connection whilst blending and passing through all the business around me. Truly poetry in motion!
____________________________________________________________________________
Expressing much gratitude for the gift of service you and the herd offer, you are all wonderful.  Blessings, Pxxx"